:: Previous Page ::
An Inner Journey Under a Living Sky
"The Land of the Living Skies" is the license plate motto in Saskatchewan, Canada. Sometimes on the prairies, all there seems to be is horizon and sky. Some say that the skies are living because of the birds, insects and dancing northern lights. But, for me, the skies are living, because if you travel under them you can become acutely aware of your own life and how intense living is and how small we are... (Continued below)
Henka's Journey - good stuff
Catherine - Wonderful. Next time you're in Winnipeg - please email me, I'd love to buy you a coffee.
bonnie - I just asked for more information and then I find it! Love the egg, now off to see the rest.
Twilight in the Land of Living Skies
25AUG03. I have two children, both boys. One is 3 years old, energetic and a handful. The other is 4 months old, cuddly, but likes to eat constantly and is very effective at making his needs known. I live by the edge of the Rocky Mountains in Canada, in the city of Edmonton to be specific. The children's grandparents live in Winnipeg. This is a distance of about 1300 kilometers along a highway called the Yellowhead. The Yellowhead highway stretches across four Canadian provinces: British Columbia, Alberta, Saskatchewan and Manitoba. The distance from its beginning (Prince Rupert) to its end (Winnipeg) is approximately 2700 kilometers. So we are planning to traverse a meager 1/3 of its distance, through the prairie provinces. We will be returning that distance as well.
Twilight is the period between night and day. Where I live, twilight can last almost the entire night in the summer. There are three stages to twilight. Astronomical twilight begins when light from the sun is first discernable. During nautical twilight even though the horizon and the outlines of objects are visible the stars are still visible enough for navigation. Finally, during civil twilight, although the sun is not up, it is bright enough to work. There is an unofficial stage of twilight that I call children's twilight. It is early in the morning often when parents would like to be sleeping!
The children behaved true to form - and woke early. The trunk of our car was packed, the children were placed into their seats, and we were off. Twilight had just ended with a glorious sunrise. The sun burnt the sky like it knew that this was the last of summer and it needed to get rid of its energy to prepare for winter.
Even with modern transportation, all journeys begin with a road and a footstep, even if the only footsteps are from bed to car to jet. In flat grassland roads seem to go on forever. Sometimes they can be winding, but more often than not, since there are no obstacles, they are straight and featureless.
Unusual Things in Empty Places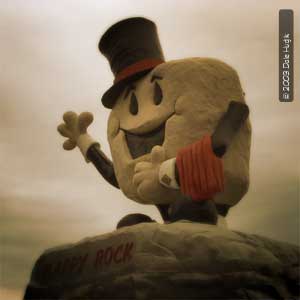 I didn´t even stop to take pictures of all of the unusual things we seen along with way. Probably the largest unusual thing was a 9 meter long, 2200 kilogram aluminum Pysanka (Easter Egg) in Vegreville, Alberta.
A sign reported that it took 12,000 person-hours to build and had approximately 3500 facets held together by almost 7000 nuts and bolts.
It is quite common for small prairie towns to have giant roadside attractions. I have seen everything from giant geese to super-sized dollar coins.
Another unusual sight, was a couple of gentlemen searching the sand of a lake with metal detectors. They were searching for things that beachgoers had dropped in the water during the summer.
The End of The Sky
All journeys come to an end and then they are something to remember and reflect on. If you like, please have a look through my gallery of pictures above by clicking on the images.
Enter a comment..