Here is a favorite photo selected by Lori..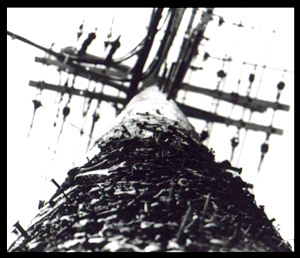 Lori said: This photo (above) was taken in 1996 with my first camera (my husband's Pentax K1000) It was the very first "photographer" photo I ever took. I was in Hollywood and shooting everything that looked interesting, playing around and thinking, "this is fun, maybe I should be a photographer". I even printed it myself, in, of all places, a real darkroom! Chemicals and everything!
What other than photography do you like to do as a diversion?
I love to cook. My favorite thing to make (and eat) is dessert. Cooking for my friends and family is a lot of fun for me. It's also relaxing. I also love to exercise. Living in LA, I can always go outside for a walk or down to the beach for a run. I read a lot too, mostly mysteries with a sci-fi edge. And of course playing with my cats, who I photograph way too much, but if they are doing something cute, I can't help it! They hate the flash and get annoyed with me more often than not.
Tell us about something that you have read or saw lately that you have enjoyed or found interesting? Why?
I saw Napoleon Dynamite last night and it was really great. The opening credits were so creative. The movie itself is weird, but if you let yourself not get too critical, it's fun. The characters were funny and the situations were stuff most kids experience at some point. I liked the way the director/writer captured embarrassing moments. I've felt like that many times in my life, when something happens and you just want to run away... He portrays that perfectly!
What type of photography do you like to do that you enjoy the most? Why?
I really enjoy photographing kids and animals. To capture them moving, running and playing is a thrill. I love animals and I have always had a special bond with them. I think this is captured in my animal photography. My favorite thing is to wander into a dog park or at a lake and just take pictures of the dogs having fun. It brings me joy! I feel the same thing with kids. I like to follow them around and capture all their funny expressions and the way they experience the world. The parents love that I capture the personality of their kidlets. I enjoy being able to give them something they can look at and be brought back to the moment when it happened.
What are its challenges?
The challenge is getting a good shot! Animals and kids are constantly moving, so I have to be right there, anticipating their every move. Since I got my digital camera it's been a lot easier, but there are times I get nothing. That's the worst. Especially when it was an awesome moment.
Tell us about the strangest or most interesting thing that you have photographed?
I have a habit of taking pictures when I drive or when I'm in the car. Usually, I'm at a stoplight or stop sign, but if I see something and my camera is close, I have been known to grab it and try for the shot. I have photographed many homeless people and couples in the middle of an argument or a hug. It's amazing what goes on in everyday life. The moments we don't' really think about or remember. I think those moments can be interesting because they are so ordinary. When you capture them on film, those moments become extraordinary because the subject isn't expecting to be photographed, so you get to see the real human, the real emotions, without any cheesy poses. I love that.
What local places do you like to take photographs of? What stands out for you about them?
I love taking photos of the streets in my neighborhood. The trees, the animals, the signs. The thing that really stands out? Well I guess that I try and photograph those things in an odd or different way. If I'm photographing a tree, I sometimes get really close so you only see the texture of the bark. You might not know what it is at first. I've also been really into power lines lately. I grew up on the east coast and we didn't have power lines, everything was underground. But out here, they are everywhere. They look out of place to me and I can't help but photograph them and the houses in my neighborhood. I captured a great shot of two dogs pushing their noses through the crack of a fence. Right after I snapped they were gone. I was really glad I caught it!
What haven't you photographed (people, place or thing) that you would like to in the future?
I lived in NYC for 8 years, but that was before I got into photography. I'd love to go back and photograph the people there, in everyday circumstances. NYC is a magical place so full of energy and life... I'd love to capture some of that to bring back to LA with me.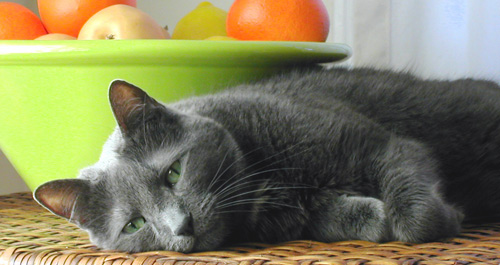 Lori said: This is my kitty, Petey. This is the last photo I ever took of her. She died a few months later from cancer.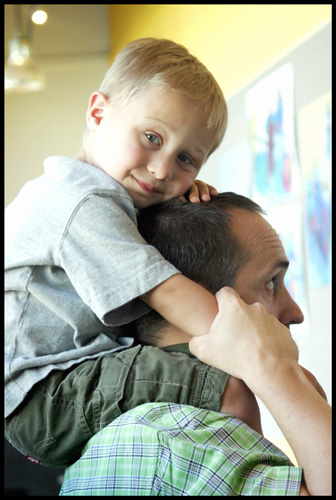 Here is another photo by Lori. She said: I love this photograph. I was at my husband's art opening and saw this cute little boy. He loved being up on his dad's shoulders and just looked so content, I had to snap it.
To see and read more visit Lori Fusaro.
Note: All images are copyright the photographer.