Here is a favorite photo selected by Stuart..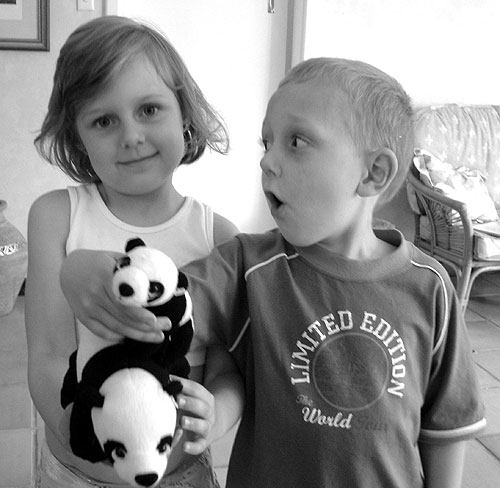 Stuart said: The first is of my children, stemmed out of a monthly photo challenge a friend puts up on her website. The request was to take a photo using the b&w function on the camera. (Normally I would shoot in colour and then desaturate in photoshop.)
Because it was specifically in black and white I added the panda's as a point of interest, then tried to get the kids to strike a pose.
Kids being kids, they wouldn't hold the panda's up so I never got the shot I was aiming for. However this far exceeded what I originally wanted.
What kinds of music do you like? Why? Do you have any listening recommendations?
I consider myself to be musically eclectic and what I listen to depends on my mood. I was brought up on Pink Floyd and really enjoy gritty hard guitar rock. I enjoy pop music from the 50's to 80's, especially if it is something that I can sing along to. I also listen to classical music and often play that to mellow out. Lately I have been listening to quite a bit of Australian Hip Hop as some good sounds are coming out at the moment.
All time favorite's hmm, that's a tough one. Probably Rammstein (Spieluhr), Radiohead (Paranoid Android), Beachboys (Good Vibrations) Vivaldi (L'estate from Four Seasons) Tchaikovsky (1812 overture).
Current favorite is the White Strips covering Jolene, the old Dolly Parton song.
What got you interested in photography/blogging? What do you like most about them?
I got a camera when I was about 8 years old and became quite snap happy. After shooting several rolls of film at a camp I discovered the cost of processing and development.
Thankfully you can always count on your mother in situations like this.
When it comes to photography I know that I lack technical ability, but feel that I do have an eye for content and structure. Digital has been a wonderful thing for me, allowing me to experiment with aperture settings as well as film and shutter speeds in a way that I would never have been able to with film.
Blogging came about when I decided to make a website for myself 5 years ago. Using an automatic page creator to put three photos per page on to a free web area was pretty frustrating due to the lack of control.
I decided to read the code to work out how it was doing.. whatever it was that it was doing! As a result I learnt HTML. As my knowledge increased so did the website. Currently I'm using it to learn PHP.
Where would be some of your favorite places to photograph in Australia? Are they difficult to get to? What sort of things would you photograph there?
Distance is a problem in Western Australia but it is something you get used to. Once you leave the city you can travel hundreds of kilometres for something different. Since going digital I haven't had the opportunity to go that far.
If I was to go anywhere my choice would be Kalbari (aprox 500km north of Perth) which has magnificent and rugged gorges. Alternatively, revisit the D'Entrecasteaux National Park in the State's south west, where giant sand dunes are encroaching into the forest, burying everything in its path.
What style of photography do you like the most or find the most challenging?
I like everyday objects and architecture, with the challenge to find new perspectives on the subject matter. It is always a very nice feeling seeing my ideas come to fruition.
If you had no time/resource constraints, what/where would you photograph? Why? How long would you stay? What would you do?
I was born in London but have lived in Australia 24 years and while I don't have any great desire to return, my interest in architecture would make it a great city to photograph. I would like to see New York for the same reason.
Stuart said: This photo is an architectural shot, taken just before sunrise on a two second exposure, (though I never did take note of the aperture setting!) I love the vibrant colours created by the fluorescent lights.
To see and read more visit Stuart Shearing (Juslooken).
Note: All images are copyright the photographer.