:: Previous Page ::
24DEC05 - Happiness
Ah. So you do not know how to make happiness? Well information wants to be free: Simply take flour (6 cups), sugar (2 cups), vegetable oil (2/3 cup), yeast (1 1/2 tablespoon) and salt (1 1/2 teaspoon). Dissolve the sugar and yeast into warm water (2 cups). Wait 'til it becomes foamy. Add the salt and oil. Add the flour a cup at a time and mix and knead until the dough is no longer sticky. Cover and wait a hour. Punch down. Breath deeply and smell the happiness. Make two loaves and let rise again for 1/2 hour. Breath deeply and smell the joy. Place in the oven at 175 degrees C. Put some great music on. Bake for about 30 minutes until the crust is a heavenly brown. Breath deeply. Ah...
The best way to make bread is with two preschool boys. They stir the yeast and water and go yuck when they sample it. Flour must be tasted dry and claims must be made of how good it is. Dough is stolen in pinches. A great deal of playing can happen while waiting for the dough to rise. And when the bread is ready, they line up to eat it warm, full of wonder and praise.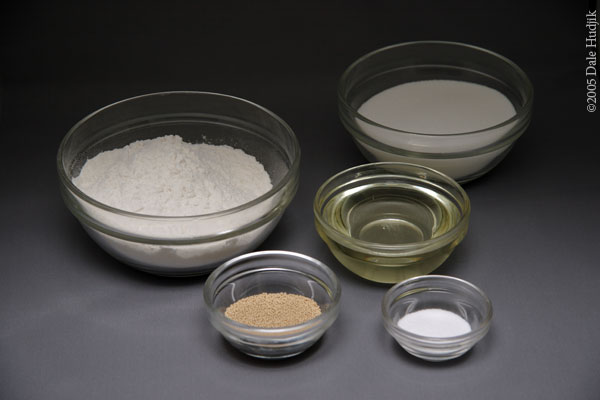 Flour, sugar, oil, yeast, salt.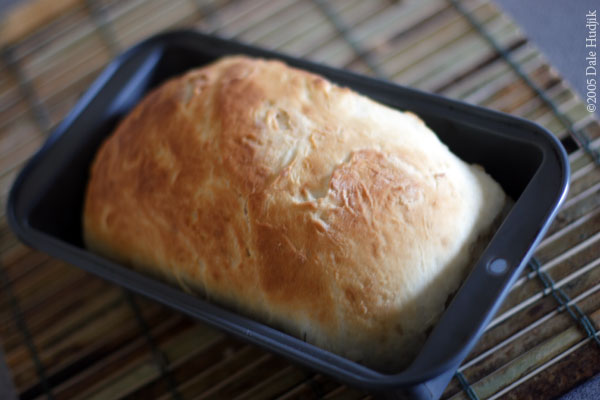 Warm fresh bread.
berta... - Beautiful and delicious ...
ToadyJoe - Mmmm, yummy and heartwarming. Great photos, thank you!
catnapping - i miss baking for my husband. i'm alone now, and with the cost of heat, it's too expensive a joy for one person. but i can smell baking from other homes, when i'm out walking. i love the smell of bread rising, baking, and sitting on the counter waiting to be sliced and smothered in fresh butter... happy new year.
Chris - Nothing like fresh baked bread! Nice photos.
Enter a comment..