Here is a favorite photo selected by Linda..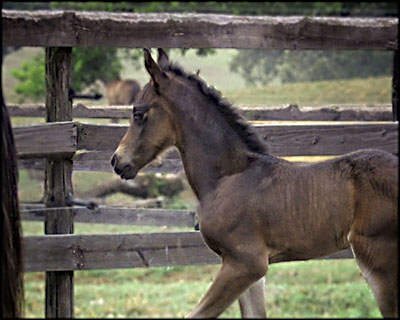 Linda said: The photographs shown here were shot with the G5. The week old foal was not chosen for it's technical strength (or lack of) but because I adore the dreamlike feeling that was captured.
Who is your favorite author(s)? What do you like about their work?
The truth is, for me to pick one author as a favorite would be difficult. You will find me reading anything from health related, anatomy/biomechanics and function, to poetry, classics and fantasy for pleasure. I am more drawn to individual books than specific authors. Two have stayed with me, Stephen King's 'The Stand', long before it became a movie, and Mark Helprin's 'Winter's Tale'. They are similar in that both have a central theme about the beauty and complexity of the human soul.
What got you interested in photography?
By trade, I am a Medical Exercise Specialist. Photography began as an outlet for my creative side, more as an adjunct to altered and composite art. The Canon G2 camera I received for a gift one year evolved to a G5, and just recently, a Rebel XT. Photography has become an end to itself. Inspiration has been the quality of work and community displayed on line here and in other memes provided by all of you.
What type of photography do you like most? Tell us why you like it or find it challenging.
My original subject matter started as work related, of people/athletes training or rehabilitating, and was used in advertising for the facility where I worked. Through those contacts I was introduced to photographing animals, primarily for a horse breeder. In spring you'll find me in a nearby town at a pastoral farm with the new crop of foals and puppies. Lately subject matter is everywhere. Mundane objects, person or panorama is all fascinating as I practice to increase my skills with the XT, and better capture light.
What have you not photographed that you would like to in the future? Why?
This past year brought more travel and photos for me, the mountains in Virginia, Narragansett Bay, Florida. Next trip will be Boston, MA then on to Illinois and a leisurely cruise with a friend on the Mississippi. Future photographic aspirations all involve travel to Europe... which will wait until our sons are done with college.
Is there any quote that you would like to leave us with?
"Be glad of life because it gives you a chance to love and to work and to play and to look up at the stars." Henry van Dyke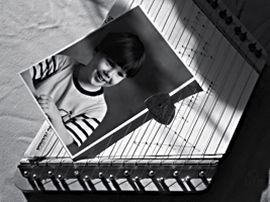 Linda said: The photograph of the child is my 19 year old and his first musical instrument, and in that one I feel a measure of success in defining the composition by using the available light. Funny how, as I look at past work, the bar continues to rise on my standards and I yearn more for the content to tell a story.
To see and read more visit Linda Brisbon (msdedi)
Note: All images are copyright the photographer.