Here is a favorite photo selected by Daniel..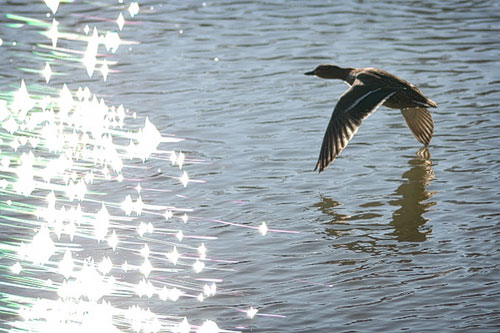 Daniel said: The first shot is, what I consider a good catch of movement. Maybe I could have stopped down the lens a little more to get a motion blurred background, but as it is with birds: they are fast and I am glad to get shot like this one.
What, besides photography, do you like to do?
I am pretty much into everything that goes on with computers: I do some programming. Mainly I use Delphi, but lately I discovered PHP. Pretty obviously I like to retouch pictures. Other than working with computers, I love making music. I play the trumpet and sing in a vocal ensemble. I do some amateurish composing as well :) When it comes to sports I am into swimming. It seems one of my problems is that I can't/won't concentrate on one thing; but I try to balance my priorities.
What one thing (besides a camera), either for home or travel, do you find indispensable?
Definitely music! It's a big part of my life. Oops, maybe my wife will read this: I can't live without her (for long).
From a photographic viewpoint, what are some special places in Germany that you would recommend to someone visiting for the first time? Tell us some of the things that you would see or do there.
On one hand there are many natural places which are worth a visit, like the Alps and various lakes (for instance the Chiemsee). On the other hand we have some great (historic) architectural sites. Close to Würzburg is a small medieval village called Rothenburg. You see timber-framing there and it has a complete city wall. The tourists like the castles a lot. I am not much into that, but it's maybe because I've seen them quite often (when I have visitors from somewhere else :)
What do you like about photoblogging? Is there anything about it that you find especially challenging/frustrating?
The most challenging are the 'Challenges'. Ha, ha, no fooling around - I do like the interaction I get with my viewers. That's great. I get lots of comments, which I answer very carefully. And I have a section with poems. My brother and I started to rhyme little funny poems fitting the images. Soon more people came around, so I have over 70 little poems by now.
Do you prefer any particular aspect ratio (panoramic, square, etc.) for an image? Why?
I like panoramic, for some special images. On real landscape shots I use the panoramic format to show the width of the landscape. Besides that, I use the aspect ratio that matches the picture best. Normally I don't use square format, because you loose a lot of information when shooting digital, meaning 3:2. Still I have some Holga-like shots and one real medium format shot in my archive. After all I am not a purist. I can understand them, but it's against my creative nature. For me the result is what counts - The format, retouching and cropping are all a means to an end.
Tell us the type of photography that you like to do the most and a bit about what makes it interesting or special for you.
I love getting close - Macro. The most interesting thing about the small world is that you see things you normally don't. The subject doesn't matter that much. I like flowers, bugs, bees and any kind of insects, simply because these guys are so small you need a macro lens to get a decent portrait.
One other thing I really like is capturing movement. It's pretty much the same as shooting macro: making things visible that you normally aren't able to see.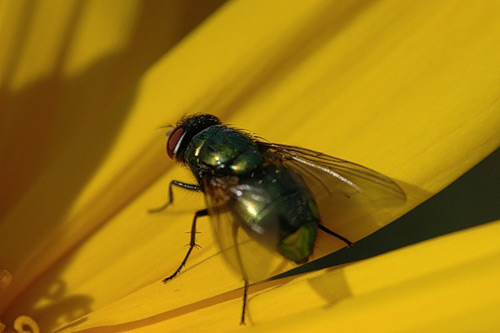 Daniel said: Getting that close to a fly means some patience: getting closer very, very carefully. The main problem with macro is the shallow depth of field you experience, especially when you use a long lens as I do (105mm). To get the focus right can be pretty hard.
In conclusion, I'd like to thank Dale for the opportunity for this interview. I am an avid visitor of the Thursday Challenge and I would like to encourage everybody to create, share and tell us about it.
To see and read more visit Daniel Groß (Objective View).
Note: All images are copyright the photographer.