Here is a favorite photo selected by Tine..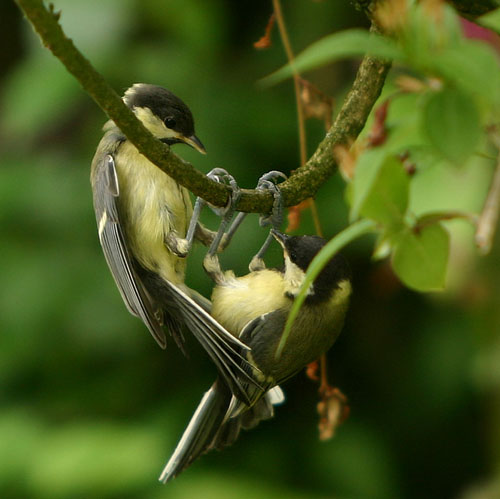 Tine said: I had so much fun watching these two big Tits playing in the Weigela bush in our garden. They weren´t bothered by my being there even while I was sitting nearby. They were playing and at one point it looked like they were on a trapeze. That´s was the right time to take this picture.
Tell us about what you like to cook.
I started cooking when I was just about 11 years old. My mom was a hard working mom, so I used to start peeling the potatoes and cleaning the vegetables when I got home from school. I wasn´t allowed to cook them when my parents weren´t home yet. I love to serve food that doesn´t take hours to prepare. Easy and tasteful food, that´s what I cook. I´m a potato freak. So when I see a dish containing potatoes I´m the first to try it out. I definitely love Italian food, pasta sauces are easy, light and fast to make. Another favorite is Mexican but it´s hard to find Mexican spices and vegetables in Belgium.
What is your favorite flower or plant? Why?
That´s a very hard question to answer because I love so many flowers and plants. Indoors I´m not so keen on plants that bloom, I love the indoor plants for their leaves. I think all kinds of Ivies are beautiful. We have a small garden but it´s filled with plants as you can see here. My most favorite outdoors plant is the Alchemilla vulgaris. I love it for the soft colors, the tiny soft yellow flowers and the morning dew that sticks on the leaves so beautifully.
How did you get interested in photography/blogging? What do you enjoy or find the most frustrating about it?
My interest in photography goes back to 1978 when my husband (my boyfriend at that time) and I went to almost every local and national auto rally. I loved the action of the cars racing around tight bends, flying over the hills and splashing through water puddles. Those were all spectacular views and that´s when I started to take pictures. Our first camera was a Canon AE1. It was still very expensive at the time to make pictures so we started to develop our own black and white pictures. I was glad to see the digital cameras come on the market. We started with Agfa ePhoto 1280, than came the minolta F100, It got 'mudded', we replaced it with the Minolta G500 Dimage and finally we bought the Canon Digital Rebel and invested in a few great lenses.
I started blogging two years ago and was happy when I ran into photo memes which I joined happily since then.
The most frustrating thing in photography is seeing the perfect shot when you don't have your camera with you. Don't leave home without it.
What do you enjoy taking pictures of the most? Why? What is the most challenging aspects of this type of photography?
I like a wide variety of taking pictures. Candid shots, especially of children, always a joy to make but most of all I love taking pictures of nature; sweeping views, flowers, animals, critters, name it, if it involves nature I´m happy. Making candids requires speed, be fast on the draw and blend into the background, otherwise they become portraits. There is never enough light and a flash attracts too much attention. I don´t have the feeling for photographing buildings, I am trying but I'm not really happy with the results.
What is the most interesting/beautiful place that you have photographed? Why did it stand out for you?
The most interesting place is our garden, why it stands out for me? I don´t have to drag everything with me, I just have to reach for it and it´s there. I can spend hours in our garden searching for insects, studying the flowers and especially waiting for the birds.
The most beautiful place: I always dreamed about living at the coast and Bandon Beach in Oregon is the most beautiful beach I've ever seen. I fell in love with that place about 5 years ago. I guess it will always be a dream.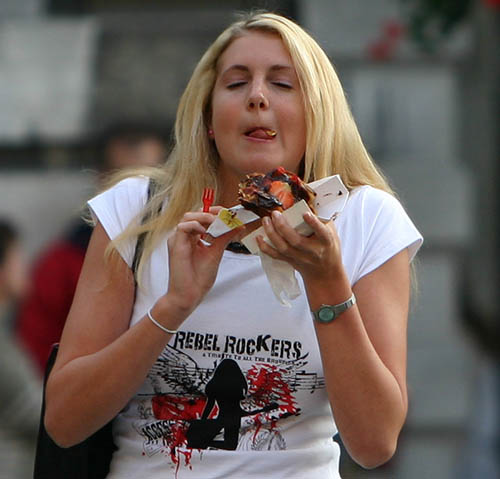 Tine said: This one is my favorite candid shot. This picture was taken on the Brussels Grote Markt (Grand Market). The girl walked towards me but didn´t see anything that happened around her. The only thing that mattered to her was her Brussels waffle. As you can see, she REALLY enjoyed it. Everytime I take a look at this picture I smile and have the urge to drive to Brussels and buy me one of those waffles.
To see and read more visit Tine Verheyden.
Note: All images are copyright the photographer.