Here is a favorite photo selected by Darragh..

Darragh said: This is one of my favourite panoramics. Taken from the top of the highest mountain in the Sibillini mountain range, Vettore (2,500m), I feel that by including my girlfriend Sara appreciating the view of these spectacular mountains, I gave this shot an extra dimension.
What do you like to do, besides photography, for diversion?
I'm a singer/songwriter in my free time. I sing and play guitar in a band I've recently formed here in Italy called 'Mindfull'. We're recording at the moment and hope to begin performing asap. The music is reggae based with some blues and folk influences.
I've also began video-making lately for a contemporary dance project of my girlfriend. I really enjoyed the experience, both recording and mounting.
Is there any photographic style or type of photography that you like to do the most?
Both Macro and Panoramic photography I enjoy a lot. You can find an exhibition of each on my homepage. I've clocked up a lot of bug-shots since going digital, mainly large insects such as butterflies and dragonflies but I'd like to shoot smaller subject matter if I can afford a better Macro lens in the future.
What initially got you interested in photography?
I began shooting with a Nikon FE2 for Art in school when I was 14 and got some darkroom experience which I enjoyed. My father's keen interest in Photography has definitely been a big factor too. I recall my excitement every time he had a fresh batch of slides to present to the family.
How has digital technology affected how you do photography?
Quantity-wise, I take at least 10 times more photos now. I've averaged over 30 shots a day since going digital, something that wouldn't have been financially possible with film. Whereas previously I'd have taken 1 or maybe 2 photos of a subject I may take many more angles now. For Macro photography of flying insects, digital has been a crucial factor. I begin photoing a subject from a distance and then approach closer taking photos all the time. In this way I usually don't risk scaring the bug off before I've captured something. The digital camera's LED screen has also been very beneficial for this type of photography, as well as for taking portrait photos unobserved :) .
What would be one of your favorite places to photograph in Ireland? Why?
County Clare would be my favourite. Although the weather may be cloudy a lot, there's a lot to interest the nature photographer. Famous points of interest would be the Cliffs of Moher, the Burren and the Aran Islands but the whole County is beautiful to my eye. Perhaps this is because half of my family's roots are from there.
If we were able to travel to Italy, what would be one of the special and perhaps less known places that you would recommend to photograph? What would we see?
I love taking photos in the hills around Prato where I live. As I'm usually in Ireland on my holiday time I haven't seen that much of Italy yet but my holiday in the Sibillini Mountains was very special. They're located in Marche, in the centre-south of the country. The main item of interest for me was the panoramas, both from the valleys and the mountain tops. Unfortunately I ran out of space on my memory card pretty fast. The vivid sun-scorched colours in August time and the rolling contours of the slopes are wonderful to behold.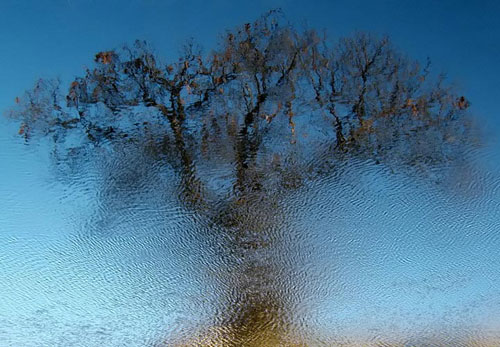 Darragh said: Apart from the oak being my favourite tree, I love the texture the ripples give it's reflection.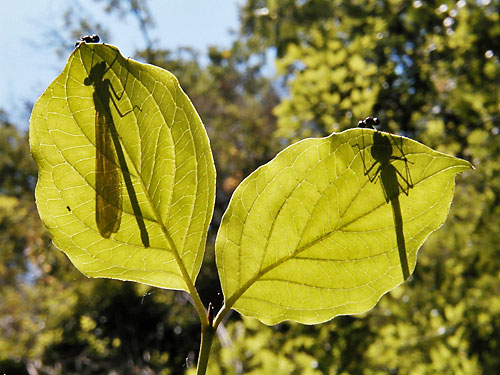 Darragh said: This was taken from quite a precarious position on a large rock above a river. I was stretched to the limit to capture these damselflies from as close as possible. It was a mid summer's day around noon and both me and my camera were sweating :) I love how both these guys positions are mirrored, but what's best about it is how it looks like they're spying while their shadows are giving them away.
To see and read more visit Darragh Hehir (Dubliner).
Note: All images are copyright the photographer.