Here is a photo taken by Shannon...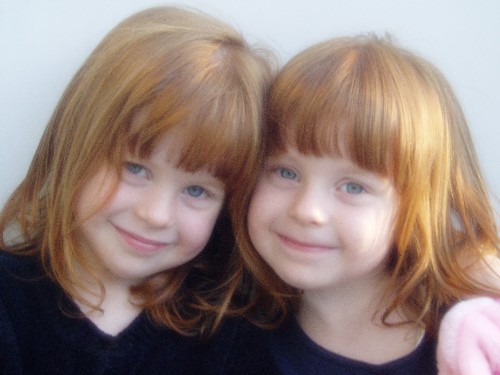 Shannon said: "The first is one I took in September this year of my girls... I used an Olympus Stylus 300 digital and this time I used one of my soft focus filters and put it in front of the lens. I just love the effect!"
What is your favorite food? Why?
I LOVE macaroni and cheese. It's just so comforting and reminds me of my childhood when my mom used to make it. She didn't like it, but she made it almost once a week because my brother and I LOVED it and SHE loved us!
Tell us about one of your favorite movies. Why did you like it?
One of my favorite movies is "The Princess Bride". It's a fairytale of love that overcomes everything, good guys vs. bad guys and a REALLY good sword fight! And most of all, I love the innocence of the movie. You just don't find those kinds of movies anymore!
Are your twins identical? What are some of the challenges raising twins? Do you have any humorous anecdotes?
My girls are actually not identical. And the more time you spend with them, the less they look alike.
I think the hardest thing about raising twins is treating them like 2 separate people. That is something I strive to do and it's very difficult when it comes to discipline. They respond very differently to different forms of punishment and sometimes it's difficult to remember who responds to what. :o)
Life is constantly at a go in my house from about 7 a.m. until 8 p.m. One day, I was getting our house in GA ready to move. My husband was outside pressure washing the driveway (it's a guy thing, I guess) and I was painting a room downstairs. The girls were up in their beds supposedly taking a nap. One of my girls was in a toddler bed and the other was still comfortable in her crib (they were about a month away from being 3). I heard a lot of commotion going on upstairs so I decided to investigate. When I opened the door, here they were looking VERY white and VERY guilty. Madison (in the toddler bed) had somehow gotten the desitin and decided to "paint" herself and the beds and the dresser and then, like a good sharing sister, handed it over to Macy who had painted herself and her bed. They looked like little clowns covered in this stuff. Thank goodness diaper wipes got it off of everything but the clothes and pillows. NOTHING takes it out of fabric. I researched everywhere and even emailed Desitin to get some help. So now the Desitin is gone, and I'm just waiting for the next "painting party" to happen during rest time! Oh the joys...
Tell us about Duchenne Muscular Dystrophy.
Duchenne is the number one genetic killer among children who suffer from Muscular Dystrophy. It is a debilitating disease that was diagnosed in my friends son shortly after he turned 3. I can tell you that it is devastating to receive such news. You know that every day you have with your child is precious because you don't have many days. Some Duchenne children live into their 20's, but most do not. It starts with the legs and slowly works it's way through the rest of the body until it shuts down. I am involved with a Sunday School class at our church who is helping raise money to help find a cure. The cure right now is about 10 years away and we don't want to wait that long to see results. We see how it pains this family so we want to help any way we can. I designed a bracelet at the request of my girlfriend and I am selling those on my other blog and half of the price goes toward research at The Foundation to Eradicate Duchenne.
What do you like about photography and blogging? What do you find frustrating?
I have had a love of photography since high school when I took a class. I majored in photography in Daytona Beach, Florida at the Southeast Center for Photographic Studies and fell in love with the creative end. I'm not much on the technical aspect...I just love shooting. I adore macro and wish I had the right digital body and lens...one day! I love blogging b/c I love getting feedback from people. I'm a people person so I love hearing what they have to say about my photographs. I find getting the right picture frustrating b/c sometimes I want more time! It's hard to get creative with two 4 year olds in tow! I also find doing html frustrating b/c I don't actually speak the language. I call my brother ALOT when I run into problems. He's a photo blogger too ANd a computer geek so it's great that I have him and that he is patient with me!
Do you have a favorite location/thing to photograph?
I love to do macro shots of flowers or bugs. I love sunsets and I also love to photograph my children and they are used to me saying "Ok girls, stand together and look like you like each other, please!".
Here is another photo selected by Shannon...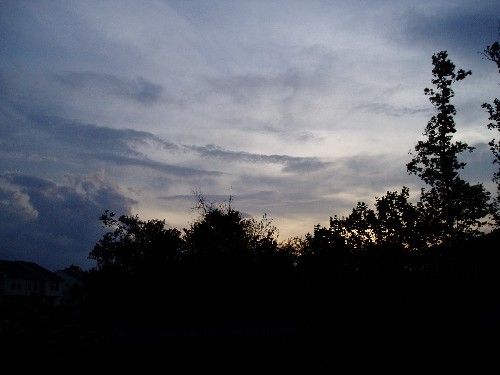 She said: "This photo was in tribute to a friend who passed away suddenly a couple of days after a successful surgery. I took this picture the day he died. It really showed my mood that day. Dark, somber and very sad, but with a little bit of light at the end because I know I will see him again one day in Heaven!"
To see and read more visit shannonfabulous (Fabulous Finds).
Note: All images are copyright the photographer.