To begin our interview let's look at one of Charlie's photographs...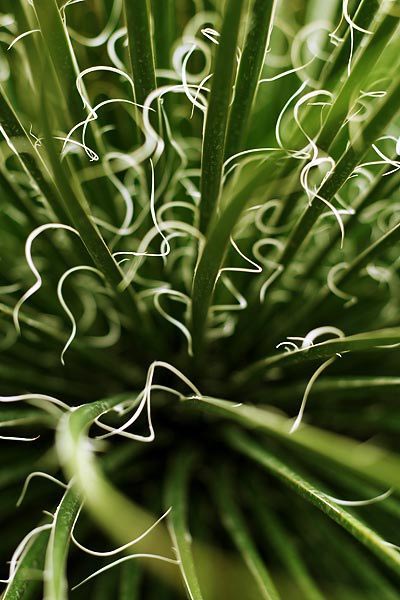 Charlie said: "This was a close-up of one of the palms in The Alamo's backyard. I love the way the weird stringy things seem to be the only thing that's actually in focus. It took me quite a few shots to get the effect I wanted!"
What is your favorite animal and why?
I love dogs in general, but I have to say that I love my own dog, Simon the best. He's definitely the best animal that I've ever had the good fortune to meet.
You have a number of 'Lomo' galleries on your website. Tell us about your experience with that camera: Why do you like it? What are the challenges using it?
Initially I avoided the Lomo because of the hype surrounding it and the fact that it was in reality, just a cheap plastic camera. Then I found one on Ebay for a few bucks and decided to give it a shot (oh my, bad pun). It's such a blast to fire off shots with this thing as it's small and the shutter is really quiet. I find myself taking pictures of things that I wouldn't normally and choosing pure subject matter over perfect composition. The results are often really interesting... and sometimes really awful! It's really difficult to take limited depth of field shots, as you have to guess at your distance to the subject. But the cool halo effects, vignette effects, and spontaneity of the shots are worth the trial and error.
Tell us how you got started with blogging/photography and why you like doing them.
I initially wanted to start a traditional blog as a way of practicing my writing skills. Before going live, I kept a journal for a few months just to see if I could do it. Instead of witty remarks, and fantastic insight, it was really more of a mundane record of the day, including rather inane rantings about nothing of importance. Since even I wasn't interested in what I was writing about, I abandoned the idea. It never occurred to me to try the same thing with photographs until a friend sent me a link to a photoblog. I've always loved photography and thought I would enjoy a blog like that so much more. I was right! I love photoblogging. I enjoy receiving comments from people on my photos and the pressure of posting a photo each day has really improved my photography.
Can you tell us how you choose your website's name (alwayscurious) and what for you was the most curious of curious things in Patrick Mauries' book "Cabinets of Curiosities"?
 All my life I've always bounced from one interest to the next. Rather than blame it on some frenetic form of A.D.D., I chose instead to blame it on the fact that I was 'always curious.' It just seemed a kinder, gentler way to describe my neurosis. When I ran across the book, "Cabinets of Curiosities" I discovered that I wasn't alone. For hundreds of years, others have sought to collect fragments of life and catalog them so they could share their curiosities with others. The book contained the usual bizarre collections, which included photographs of 'cat people' who were completely covered with hair, but there were more natural wonders as well. I found the most curious pieces in these collections were the colorful corral that people collected. There is just something fascinating about corral, not the least of which is that it's actually the accumulated skeletons of tiny sea creatures - bizarre yet beautiful!
Tell us about the most curious thing you have photographed.
I've recently found that, like corral, cacti are really fascinating. I've taken several macro shots of them and always see something new and intriguing. On a recent trip to San Antonio, I visited The Alamo, but found the structure itself rather uninspiring. Then I walked behind it to find a garden filled with hairy palms, crazy cacti, and weird and wonderful palm trees. It's strange to admit to people that I didn't really enjoy my trip to The Alamo, but thoroughly enjoyed my trip to The Alamo's backyard!
Here is one of Charlie's cacti photographs...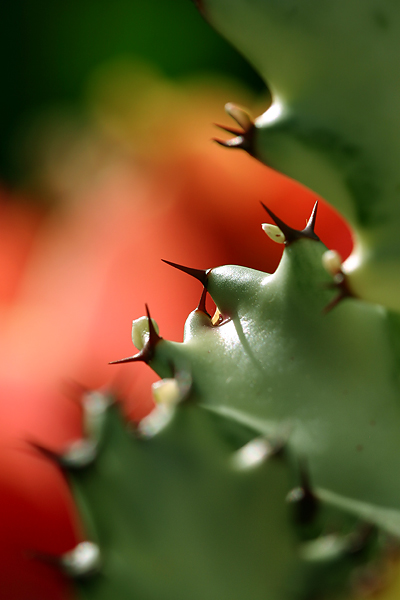 Charlie said regarding this image: "Another from the cacti fetish group. I really liked the way the red flower in the background set off the sharp and dangerous thorns, as well as the obvious complimentary colors. Yet there was something really fleshy about the cactus that made it seem like an alien skin... yeah, I'm curious... and just a tad odd!
If time and resources were not an issue, what curious place/thing would you like to photograph. If you like, tell us about how you would plan the trip/photo shoot and how long you would stay.
I've only had the good fortune to travel there on one occasion, but I love Italy and would really like to go back there and photograph it. On my previous trip I had a simple 3 megapixel camera, but now I would love to return armed with my improved skills and Canon 10D. I would fly into Milan and then travel to Venice before ending at a villa in Tuscany... hmmm... if resources are not an issue, then let's just say I own the villa. Okay... so, at my villa in Tuscany I would spend two weeks, taking pictures of olive groves and rolling hills at all the peak hours of the day. Truthfully, if I could actually spend a day anywhere taking pictures of a beautiful scene as the light slowly changes, that would be fantastic. Unfortunately, there never seems to be enough time in reality, even if I have the resources.
To see and read more visit name.
Note: All images are copyright the photographer.