Let's begin with one of Marvin's favorite pictures...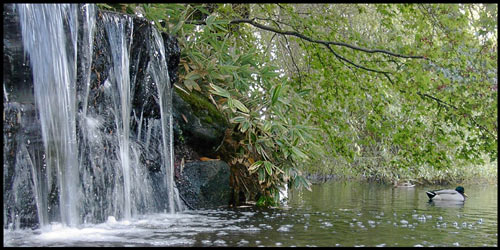 Marvin said: The duck pond was right across from my apartment and a great place to wander away from the noises of the city.
Tell me about a recent book or movie that you have read or seen that is noteworthy to you.
The most noteworthy recent movie has to be Fahrenheit 911. As a Canuck [Canadian], the amount of media coverage from the US is almost overwhelming...it was a refreshing (if controversial) change. Only the second movie I've seen where the audience left clapping...the other was a flick called Star Wars. I saw both opening day so maybe that helped. Both were noteworthy for the same reason...heroes and villains.
What is your favorite sport and why?
Golf and Tiger Woods. I am an official Member of the "First Church of Tiger Woods".
What do you like to eat/drink while watching it? :)
As golf coverage is normally a four-day, four hours per day event...I eat an awful lot of stuff. I would have to go with popcorn, OJ, coffee, chips and beer as the staples. No...wait...that's celery, carrot sticks, water and OJ. Right...the second answer.
What do you find most frustrating with technology (photography or otherwise)?
I am becoming more aware of the fact that I am an on-demand junkie. If something doesn't work properly for me at the first instant I want it to...I notice. Of course, I still keep things in perspective...but I notice. Of course, photography is a lot of trial and error to learn properly (as with many things), so patience is something to focus on, too. (...just a small photography pun there...)
What do you enjoy most about photography and/or blogging? What got you 'into' it?
I started a website through my Shaw Cable service mostly to post info about Tiger Woods...yes, I am a rabid fan. It slowly evolved to pictures, recent events, favorite links...then I found blogging and LOVE how instantaneous it is. In fact, I am going to begin the withdrawal of the shaw site soon...takes too much time to update, etc.
Is the any styles or types of photography that you like the most? Tell us about them.
With photography, I simply enjoy looking at the world...I love to see new things and if I can get something on film that I find interesting, all the better. I really like macro photography and scenery images in black and white. I don't do much macro as I really don't have the camera for it. I'll be buying a camera capable of more, as soon as the budget allows.
If you were to recommend one place in British Columbia to go to do nature photography, what would that place be. Tell us about it. (What should we expect to see. How would we get there. etc.)
To choose one place in BC (British Columbia) for nature photography is really tough. However, having spent nine years in Victoria, I would probably have to go with Vancouver Island. The west coast of the island near Tofino is simply stunning; Long Beach is a popular destination and one of the most relaxing places I've ever been to. Areas around Parksville, Nanaimo, Campbell River, etc are breathtaking, as are many of the smaller communities all over the island. I find I have a rather large collection of sunset and sunrise shots from my time there...in fact one of them ranks as one of my favorite photo's. Beaches, mountains, wildlife, lakes, forests, whale watching, marine life in all shapes and sizes...and, of course, the Pacific Ocean itself...not to mention the Gulf Islands! You really can go trigger happy with a camera on Vancouver Island. I think that http://www.VancouverIsland.com is one of the better sites for more detailed travel info, maps, hotel guides etc. You can fly in to one of the small regional airports across the island or to the larger Victoria International Airport...but I would recommend driving and enjoying the BC Ferry service through the Gulf Islands. If you can, go in the summer when you have a better chance of avoiding rain...it's worth the money to take the ferry and stop off at one or two of the Gulf Islands, too. Just plan it out so you have enough time. Perhaps a Bed & Breakfast stay on a Gulf Island...ahhhh....I have to stop now. I am currently living in a semi-arid desert in Kamloops and, though I am really enjoying the change...wouldn't mind a short stroll to the ocean sometimes...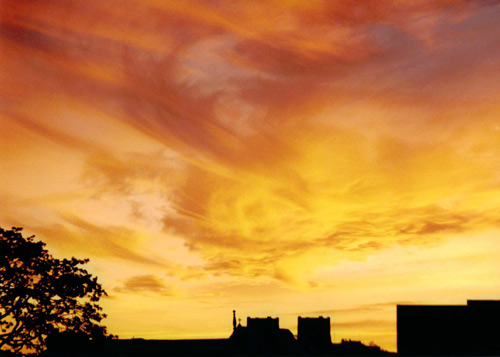 Marvin said: This sunset is a favorite because of the colour and clarity...and the remembrance of a beautiful night.
To see and read more visit Marvin Beatty (InstaMarv).
Note: All images are copyright the photographer.