:: Previous Page ::
A mixed-media sea horse.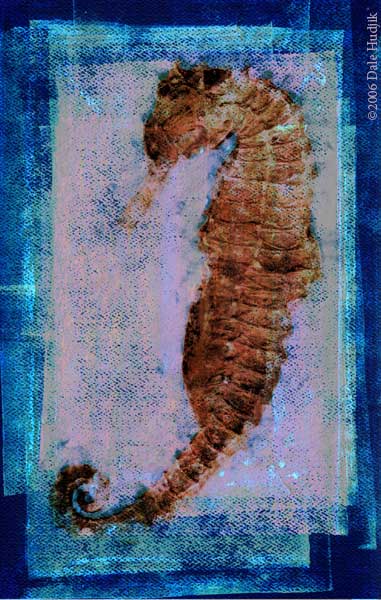 The Sea and Manuelita
(P. Neruda 1961 "Cantos Ceremoniales")

She brought me here, the womanly sailor,...
I remember her,
a siren of rifles,
a widow of nets,
a little Creole merchant
of honey, doves, pineapples, and pistols.
She slept among the casks,
with the insurgent gunpowder,
with the fish just caught
  shivering on the ship,
with the phosphorescent dream
  of earth for an anchor...

I do not know
  where she vanished.
I do not know
  where she left her last kiss for love,
or where the last wave reached her.

rick - Nice. Love the textures.
z?rdis - This is soooooooo beautifufl. I just love this one, looks like an fossil. So perfect!
Anonymous - Love your notion including the netting along with the words. Beautiful!
valgalart - this is beautiful!
Katili - Absolutely gorgeous !
Gudbrandsdottir - Gorgeous painting, just great! This is something I could have on my wall!
Ratlion - Beautiful! Love the textures...
Nicky - Wow, Dale! That would look so great hanging on my wall! First in line if you ever sell them.
catnapping - i find myself repeating what everyone else said. great textures...and i really like the blue contrast to the rich tans and browns. and good mix.
Toni - wonderful and great textures. great quote by Neruda
Ajeetha - WoW Dale!!! Its so beautiful and the quotes are just awesome. Thanks, for bringing it into picture........
msdedi - lovely, lovely poem to go with a rich, wonderful piece
Baskerville Hound - Beautiful, delicate image. love the different textures and complimenting colours-rich yet subtle.
jon - Another beautiful execution in craft and concept.
cheap Tart - Wow. Lovely image & fantastic words. : ) Smooch, The Tart ; )
Carra - Very beautiful!
Amy - Fabulous! What great texture.
Lori Witzel - Neruda, collage, seahorses -- what's not to love? And you somehow make the image full of motion, despite what could have been a very static composition. Kewl!
Jo - The poem, the seahorse; a beautiful piece.
facetiousdude - Wonderful texture!!!
Enter a comment..