:: Previous Page ::
For me, the ultimate symbol of strength is motherhood and the strongest bond is perhaps between mother and child.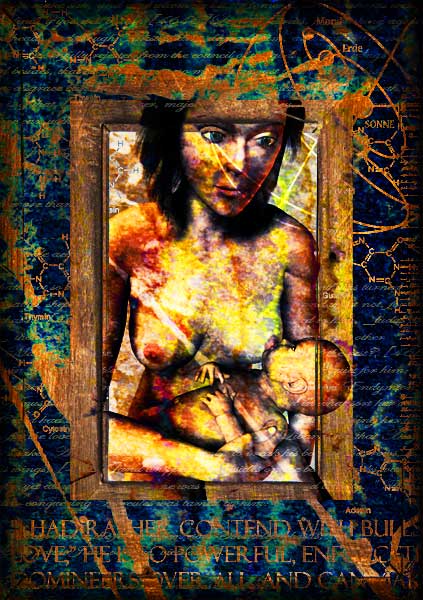 (no link) - What an excellent take on the theme. Really beautiful.
Darren Grounds - Neat illo. Your use of colour and text really make this atand out :)
Megan Hoover - I've nursed a baby (two actually) and that IS STRENGTH!! You just don't know how strong you are until you've endured some of those pains...and it's true, that bond is almost unbreakable! A beautiful illo!!
carla - The colors and layers here are very beautiful, like jewels. This looks like a contemporary madonna and child...you've captured an intimate moment.
tony - That is so powerful. Great job!
catnapping - this is beautiful. the textures, the look of gilding. and the subject is incredible. excellent excellent work
Sally - Amazing!
Toni - I really like this. I love art work with layers and these jewel tone colors. The subject matter is one i almost did. Simply awesome!
Ajeetha - An amazing peice of art, I'm so moved.. Its incredible!! The colour pattern is awesome and I love it.
Aravis - Beautiful concept.
Enter a comment..