.: SpunWithTears :.
Things To Do ::
Favorite Sites ::
:: MY EXHIBITIONS
:: Workshops
:: Featured Photos
:: Archives
:: Multimedia
:: Interviews
:: Previous Page ::
Lost on a desert island.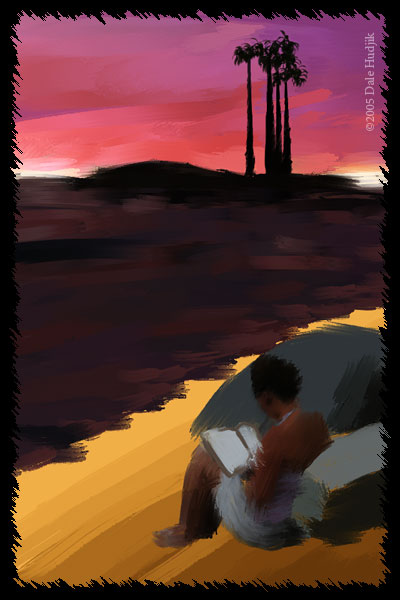 Alina - Beautiful painting! Lost yet in peace ... there is something poetic about this illustration!
Mick Mather - Another lovely digital painting, Dale. Manipulation or all digital tools?
Anonymous - I love the 'lost' feeling you have achieved with your chosen brushes - the colours are terrific!
lyn - Love this one!
Carolyn - Lovely! Absolutely love the colors. I would be perfectly happy to be lost in this scene!
carla - I love the broad, bold strokes, and I love the treatment of the sky with the palm trees in silhouette. It really makes me feel as if i am there on that beach, lost in some warm tropical breeze.
Holly - Nice brush stroke quality. Looks like a nice place to get lost in.
Aravis - This is the sort of "lost" that I like being. I like your choice of darker, richer colors.
Enter a comment..