.: SpunWithTears :.
Things To Do ::
Favorite Sites ::
:: MY EXHIBITIONS
:: Workshops
:: Featured Photos
:: Archives
:: Multimedia
:: Interviews
:: Previous Page ::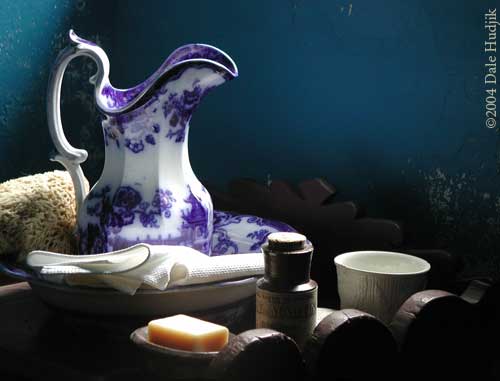 Graham - Perfect for still life, great lighting, thank you.
Bananas! - Somehow I do see a connection with your domestic-entry! :) Both images bring back some sweet memories. I remember these items at my grandma's house, although unused, on her dressingtable in her bedroom. The broom was always kept behind the door. To bring good luck, she always said :) Again another lovely image Dale!
Hilde - Gorgeous image Dale... very nostalgic.
photographer52 - I love this. Beautiful.
Ged - nice one too!
(no link) - What light -- like a miracle! I can't find the words to tell you how lovely this is.
Firefly - This truly is a lovely picture. It does not look contrived or forced in any way. It is beautiful.
george - Fabulous shoot. Looks like a Vermeer. Great light.
Chelsea - Very beautiful!
claudine - i definitely thought "vermeer" the moment I saw this... it's that beautiful soft light streaming in from above... :)
Duke - Incredible... The purple of the vase/basin against the blue background is fantastic. Nicely done. This sends me back to summers on my aunt's farm when I was young. There was always a water vase with basin in the guest room (inevitably Blue Delft pottery) and that smell of hand-made soap permeating the room. I can see the dust rising off the gravel road and my uncle's toothy smile as he comes in after a long day on the swather... my aunt shouting something out the kitchen window to him as she drew a pitcher of rusty well water from the tap. Thanks for the memory.
Chris - More chiaroscuro than a Vermeer. Splendid picture!
(no link) - yes, very nice....but a vermeer would've been more saturated in yellow tones....?
(no link) - bookmarked your site, i like it ;)thanks
(no link) - Thanks so very much for taking your time to create this very useful and informative site.
(no link) - Great site! Good work!
(no link) - Best regards from NY!
(no link) - Enjoyed a lot!
Enter a comment..