.: SpunWithTears :.
Things To Do ::
Favorite Sites ::
:: MY EXHIBITIONS
:: Workshops
:: Featured Photos
:: Archives
:: Multimedia
:: Interviews
:: Previous Page ::
20OCT04 - Colorful
Cold happiness...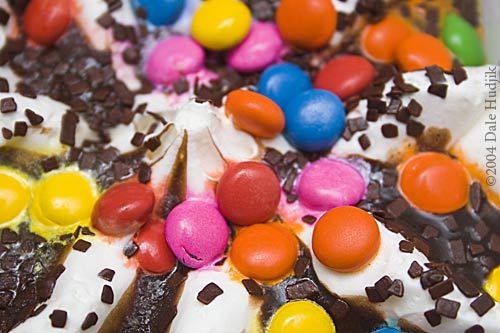 Emerald - Mmmmm. That looks super yummy! Did it taste good? I really like the contrast amongst the colorful candies the white ice cream and the dark colored chocolate. Nice shot! Can I eat it? ;-)
stu - I want..
lynn - are those pink M&M's?
Nancy Bea - Just incredible (and edible)!
Medb - Gorgeous photo, as usual!
(no link) - So sweet shot! Thank you for every week entertainment. I'm happy to join this site.
anna - Yummy! Beautiful pic!
cool - this looks yummmy yeah right i hate ice cream plain!!!!!!i love some one special
(no link) - hey what's up ilove daniel and julia and chiara.
(no link) - this pic looks soo good u have to send me the recpie. lily
ryan - hi i was wondering i might like that sundaes you should put recipe on there thank you
anonymous - you dont put the recipe on there
ryan - hi hi hi
(no link) - this looks really good i love whoever made this!
(no link) - ohhhhhhhhhh i have a confesion to make i love the cake better than jessica
Enter a comment..