.: SpunWithTears :.
Things To Do ::
Favorite Sites ::
:: MY EXHIBITIONS
:: Workshops
:: Featured Photos
:: Archives
:: Multimedia
:: Interviews
:: Previous Page ::
your_waitress - very cute shot dale! i am guilty of doing that myself. ;-)
Lorien - Vert sweet and heart warming!
junnie - cute kid. a great snap shot of a moment. you can't do that back here...hosewater maybe potable...but we cant waste what we dont have much...(scratching head, to think the Philippines is surrounded by water)
Tine - very very sweet picture.
btezra - ~a perfect submission for the theme, the technicals may be a bit off, but the moment matters most here~
Eljo Blogt#trademark - Real nice pic you made! This is mine :) Photopoint.tk http://home.wanadoo.nl/morpurgo/Photo_Challenge/PCP.htm#Thirst
shannonfabulous - I love it. Exactly what I had in mind if I had access to a hose, but alas, apartment living does not allow for such things! Great shot, though!
Will - Really nice candid portrait. I love how close to the subject you are. That closeness really makes this image!
Sandra Rocha - just like Will said, the fact that its taken from such a close distance makes this shot special :-) and that smile never fades ;-) ~~
bonnie - Nice shot. I still grab one from the hose but I'm far from cute. :-) Love the sunset. I have one of my own gracing my desktop, but yours would look better. *bg*
Daina - I visited your site and it is really very nice.Wish your great success to your site.
Hilde - Adorable capture!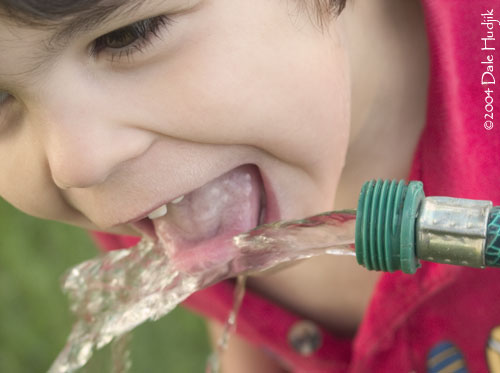 Enter a comment..