:: Previous Page ::
Where I live, with an overall population density of less than 5 people per square kilometer (12 people per square mile), the disappearance of rural areas and lifestyle leaves haunting, empty scenes and unbelievably vast wilderness - a photographer's dream.
The happiness scale is very high today as I am organizing my second (physical) exhibition of my work for next year. I am planning on including a full-sized version of the following b&w photograph at one of them.
About the photo: The sky is grey and menacing before a storm, but a tiny break in the clouds near the horizon shines a brilliant ray of light on the trees and abandoned house making them glow with energy.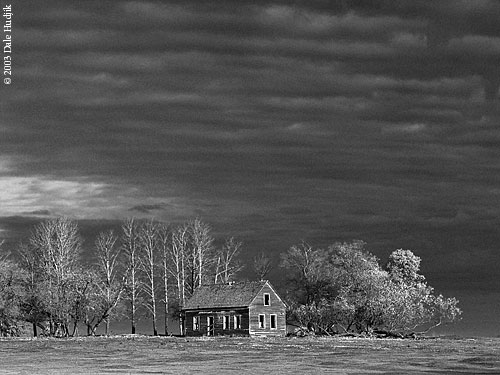 sherle - Awesome! ;-)
Mona - I love how the sky is somewhat menacing yet peaceful
Junnie - just like a painting. very tranquil. this pic moves me.
oliviajoel - yeah it looks like a painting! great pic!! a little scary =)
juli - Absolutely haunting. So reminiscent of the disappearing family farms that dot the Kansas countryside where I make my home.
(no link) - reminds me of of nights before hydro,very thoughtfull pic.mil
(no link) - ur photo looks haunting, as if it sits in a ghost town waiting for some company!
Enter a comment..